In today's connected world, shopping is done at click of a button or swipe of finger. A majority of shoppers compare prices across portals before buying any product. Therefore, it is extremely important for the online retailers to keep a track of the prices of products on their competitor sites. An automated web crawling solution, the technology powering the Google search engine, can provide online businesses with prices from competitor sites in real-time boosting efficiency and bottom line.
Top 5 reasons for automated price monitoring solution
Stop tedious manual data search and entry work: Deploying people to search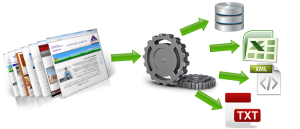 for prices of hundreds of products on multiple websites is a daunting, time-consuming & costly process prone to errors. The high cost in monitoring of prices would add to the cost and make the entire process futile. Web Data Crawling solutions removes the need to have a team of people do the copy-paste job and provides data within hours.
Get a broader analysis of the market:
An automated competitor site monitoring solution, allows monitoring of unlimited number of products, giving a broader analysis of the market. One can easily and anonymously get the prices of products that competitors are selling at.
Never miss a price change :
In fast changing online world of e-commerce, having information on time is

critical and is more often than the difference between making a sale or losing it to your competitor. Automated Web crawling solutions allow monitoring of products on real-time thereby providing market intelligence on competitor prices as it happens.
Minimize human error:
Data entry is prone to errors and requires hours of multilevel checks to get 99% accuracy. Automated web data crawling solutions are not only speedy but provide the same information with 100% accuracy at a fraction of the cost.
Focus on business:
By leveraging the power of automated web crawling solutions, business owners are able to spend their time doing what they are best at – strategist to improve bottom line by being more responsive to market changes and taking informed decisions.
To sustain in this competitive environment, keeping track of competitor prices is become essential for online retailers. Automated price monitoring service by ITSYS Solutions, anonymously captures data from targeted websites in real-time and with 100% accuracy, at a cost that allows businesses to stay competitive.