Today, due to aggressiveness in the business world there is no information which should be overlooked. This applies to all businesses which have eCommerce domains. Clients will simply buy from sites that offer the most competitive rates on a regular basis. However, online businesses must ensure that their brands are not only valuable, but also competitively priced so as to attract more customers and retain them. The best way to keep your prices competitive and ensure your data is updated is through competitor price monitoring. May be you're wondering how you can do this. You need to know how to extract data online.
There are two options of doing data scraping. You could either do it yourself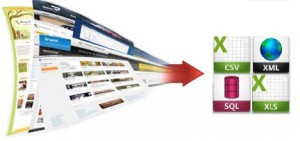 (DIY) or hire a web scraping company to do the work. However, DIY option will be costly since you have to hire experienced personnel to handle the work. You will also need to install data extraction software and the right hardware to handle the task. All these requirements will cost your business a lot of money hence it's not economical. On the other hand, outsourcing data extraction services will save you some cash. However, ensure you get the right competitor price monitoring service providers as to enjoy the benefits.
What are the benefits of web scraping?
Making informed decisions – Doing business is a matter of figures and facts. In a competitive world, getting the right data in real time will make a difference in your business. Web scraping service will help you get enough data from the web that you'll use to run your business on a daily basis. You can also store that information and use it when you need it. This will enable you to move forward when making strategic decisions concerning your business.
Acquire accurate information – Online data is frequently updated so as to remain relevant to the search engines. However, you need to have access to the right information in your industry. Data scraping tool will help you acquire all the information about your competition. Get a list of companies which offer the same products and services as you and where they're located. Check whether they have
Price monitoring – You should know what your competitors are charging and how you can price your products and services so as to remain ahead of your competitors. Through price monitoring service you'll be able to set the right prices for your products or services. The prices should not be too low to make your target clients suspicious or too high to scare away your potential clients.
Competitor monitoring – A crucial aspect in any business is to monitor the activities of your competitors. Your competitors' website has valuable information which they've made available to the world. You need to access this data so as to make a wise decision when branding your products. Doing a competitor price watch on a regular basis will ensure your brands are not only valued but also competitively priced.
Use web scraping services to make accurate decisions and remain ahead of your competition in the industry.